Mengelola Keragaman Agama di Lembaga Pendidikan Tinggi Institut Agama Kristen Negeri Ambon
Keywords:
mengelola, keragaman, agama
Abstract
Penelitian ini bertujuan untuk mendeskripsikan potret keragaman dan bagaimana Institut Agama Kristen Negeri Ambon mengelola keragaman antar umat beragama. Penelitian ini menggunakan pendekatan kualitatif deskriptif dengan teknik wawancara mendalam dan observasi. Hasil penelitian menunjukkan bahwa potret keragaman di IAKN Ambon meliputi keragaman keyakinan, etnis dan juga keragaman fisik. Dalam mengelola keragaman, IAKN Ambon melakukan Langkah-langkah seperti: 1) Meningkatkan pemahaman dan kesadaran timbal balik dari semua unsur di lingkup kerja IAKN Ambon (Mahasiswa, pegawai dan dosen); 2) Memberikan kebebasan dalam beribadah menurut keyakinan masing-masing; 3) Menyediakan fasilitas ibadah, yaitu rumah moderasi yang didalamnya ada Musholaa untuk mereka yang beragama islam dan gereja (Capel) untuk yang beragama Kristen dan Katolik; 4) Menciptakan ruang bersama melalui berbagai kegiatan seperti webinar, workshop, pengabdian, penelitian. Dengan demikian dapat disimpulkan bahwa IAKN Ambon menunjukkan sikap yang positif dalam mengelola keragaman melalui berbagai kegiatan seperti workshop, webinar, pengabdian, penelitian, pembangunan rumah moderasi yang semuanya disambut baik oleh semua pihak dan mampu mewujudkan kampus yang harmoni dalam keragaman.
Kata Kunci: mengelola, keragaman, agama
This study aims to describe the portrait of diversity and how the Ambon State Christian Institute manages inter-religious diversity. This study uses a descriptive qualitative approach with in-depth interviews and observation techniques. The results show that the portrait of diversity in IAKN Ambon includes diversity of beliefs, ethnicities and also physical diversity. In managing diversity, IAKN Ambon takes steps such as: 1) Increasing mutual understanding and awareness of all elements within the scope of work of IAKN Ambon (students, employees and lecturers); 2) Give freedom to worship according to their respective beliefs; 3) Providing worship facilities, namely a house of moderation in which there is a prayer room for those who are Muslim and a church (Capel) for Christians and Catholics; 4) Creating a common space through various activities such as webinars, workshops, community service, research. Thus it can be concluded that IAKN Ambon shows a positive attitude in managing diversity through various activities such as workshops, webinars, community service, research, construction of a moderation house, all of which are welcomed by all parties and are able to create a campus that is harmonious in diversity.
Keywords: managing, diversity, religion
Downloads
Download data is not yet available.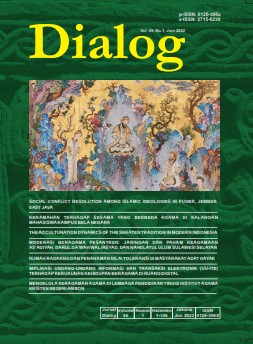 Downloads
How to Cite
Ambarita, J., & Ririhena, I. (2022). Mengelola Keragaman Agama di Lembaga Pendidikan Tinggi Institut Agama Kristen Negeri Ambon. Dialog, 45(1), 81–98. https://doi.org/10.47655/dialog.v45i1.529